About the Project
Delhi airport handles 69.23 million passengers in 2018-2019 of which about 40 million passengers use Terminal T3. The carpet flooring at IGI airport (T3-Domestic Arrival & Departure) had been a great inconvenience for several passengers. However extensive use and regular buggy movement have flattened the rugs in some parts. Many flyers have complained about the slow movement of trolleys on the carpet, security officials have mentioned difficulties in walking of dog squad and highlighted the stench from the carpets. Delhi Indira Gandhi international airport takes great initiative for flyers. The Delhi airport has recently taken certain measures in order to ensure the safety and convenience of flyers and its staffs.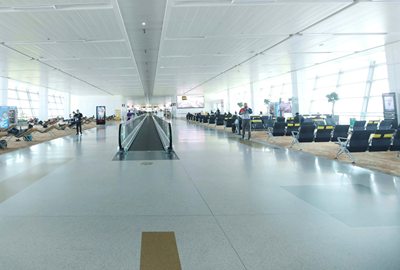 Challenges
To overcome the big time challenges of the existing carpet, Delhi International airport Limited (DIAL) and Union civil aviation ministry has proposed an plan to revamp its existing carpet to an anti-slippery, easy to maintain and durable flooring. With intense daily footfall being part of the routine at the airport a durable surface was a necessity, whilst the floor also needed to be attractive and welcoming to passengers at the same time.
Solution
The specification was floated and mock up was done . Tremco CPG India(Previously known as ''Flowcrete India Private Limited) has been awarded the project in midst of heavy competition from biggies in industry.
Flowcrete's premium decorative terrazzo flooring system, Mondéco Earth, was selected for the project in order to provide a surface that combines style with performance.

Mondéco Earth is a seamless epoxy resin terrazzo floor finish that utilises a blend of granite and flint aggregates and is well suited environments where design aesthetics and durability are of paramount concern. The seamless nature of the floor provides robust look, easy to clean and low cost maintenance surface. Mondeco earth has been recommended to the 17000 sq.mt of existing carpet space .The carpet in these areas has been removed and replaced in a phased manner as it is a running airport(without creating any trouble to the passengers) The multi-faceted covering is not only capable of withstanding intense pedestrian and wheeled traffic - it is also strikingly attractive, thus providing an elegant and modern setting for travellers.